Kids Martial Arts In Lee's Summit
Our Kids Martial Arts Classes Offer The Best Blend Of Jiu Jitsu And Mixed Martial Arts
There's nothing more important in your child's life than staying physically active and mentally challenged. At Glory MMA & Fitness, we offer both with the help of exciting instruction that is different every week.
Our Kids Martial Arts program is designed to keep students of all ages and abilities motivated to give it their all and walk away feeling proud.
Join us in Lee's Summit for Kids and Teens BJJ and Kickboxing. No prior experience is required.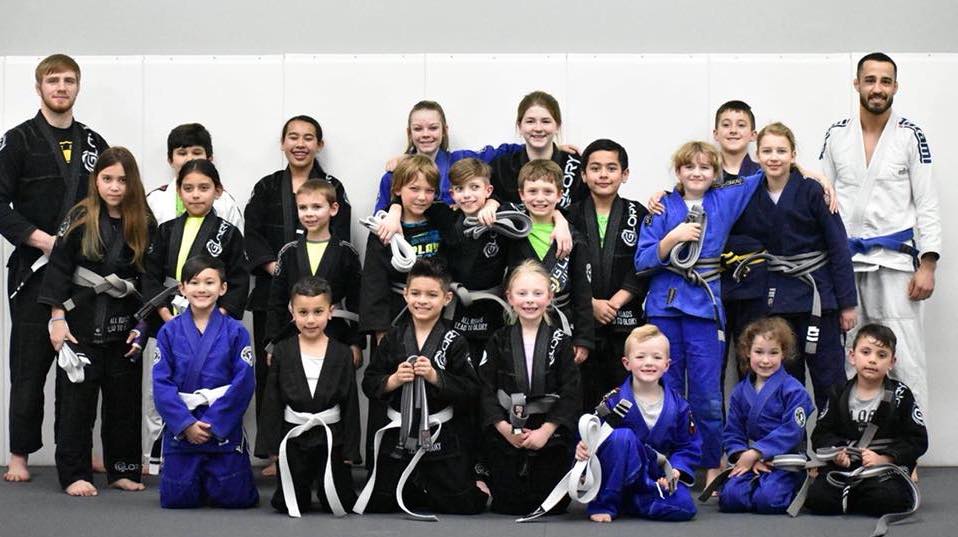 Any Age, Any Skill Set - Our Kids Martial Arts Program Has You Covered
We know kids develop at different paces. Our goal in each class is to make sure no student ever feels overwhelmed or intimidated.
That's why our Kids Martial Arts classes are held in smaller settings than most, giving your child access to hands-on instruction and a personalized approach. From day one, your child can feel confident in their abilities and driven to get better every day.
Join us at Glory MMA & Fitness for:
Youth Kickboxing: Our introduction to this incredible discipline teaches students balance and coordination with the help of striking drills.
Kids Brazilian Jiu Jitsu: Show your child that strength and size don't always matter. This discipline teaches students how to use leverage and technique to overcome a larger opponent and walk away unharmed.
Teen Brazilian Jiu Jitsu: Equip your child with the best set of ground-based self-defense skills and give them the confidence to face down anything life throws their way. These classes are total-body workouts and beneficial for all skill levels.
Don't Forget: Our Kids Martial Arts Classes Can Impact Every Aspect Of Your Child's Life
We focus a lot of our attention on getting fit and staying active, but the truth is, the benefits of our Kids Martial Arts program goes well beyond just kicks, punches, takedowns, and submissions.
We use the world of martial arts training to teach students important values like self-confidence and respect and we build them up with a progression of challenges that encourage students to set goals and celebrate their achievements.
We're helping students across Lee's Summit develop:
Perseverance and dedication
Respect and discipline
Leadership and teamwork
An incredible sense of accomplishment
Give Your Child The Best Chance To Thrive With Our Kids Martial Arts Classes In Lee's Summit!
Don't miss out our cutting-edge training at Glory MMA & Fitness. We truly care about every student who walks through our doors and we're committed to helping your child find success from day one.
Just fill out the short form on your screen to learn more about our Kids Martial Arts Classes and everything we have to offer in Lee's Summit!